bike-energy as OEM

our Charger units into your product
A compact and practical upgrade of your products
What is an OEM? For those who don't know exactly, a bike-energy acts as an OEM (original equipment manufacturer) and supplies Charger units for installation in your company's products. Very simple!  
Thereby are bike-energy Charger units are easy to integrate into your company's products and combine your top products with the many advantages of the bike-energy charging infrastructure. The compact installation parts have already been processed in some innovative infrastructure solutions. 
The ibench® Solar bench
The ibench® is an innovation from messWERK GmbH  from Pforzheim. This smart bench is not only visually eye-catching, but also a very practical resting place. With the Charger unit from bike-energy, ibench offers diverse charging solutions for smartphone, tablet, e-bike and e-scooter.
E-bikes are charged via an integrated DC fast charger from bike energy. There is no need to handle the dangerous mains voltage, the battery does not have to be removed and charging is about twice as fast as with the home charger. Furthermore, the innovative magnetic coupling prevents damage to the wheel or the charging point.
Solar lantern with charging station
The innovative solar street lamps from photinus GmbH from Vorarlberg use bike-energy Charger units in their smart LED street lighting. The charging point is thus always optimally illuminated, which helps safety, especially at night. 
BIKE.IN bike parking facility
The BIKE.IN is a bicycle parking system with digitally controllable locking mechanism. Compatible with all systems requested by the provider such as mobile app, transport cards, credit or access cards, etc.
Certainly one of the best, most innovative and safest parking systems on the market. Optionally with bike-energy Charger unit. Safe parking - safe charging, and best of all, no need to carry your own bike lock.
MOVEBLOC®
The MOVEBLOC® combines fast charging and high security in a visually appealing product that can even be individually branded. Quickly set up, ready for immediate use and variably adaptable to local conditions - charging has never been so easy.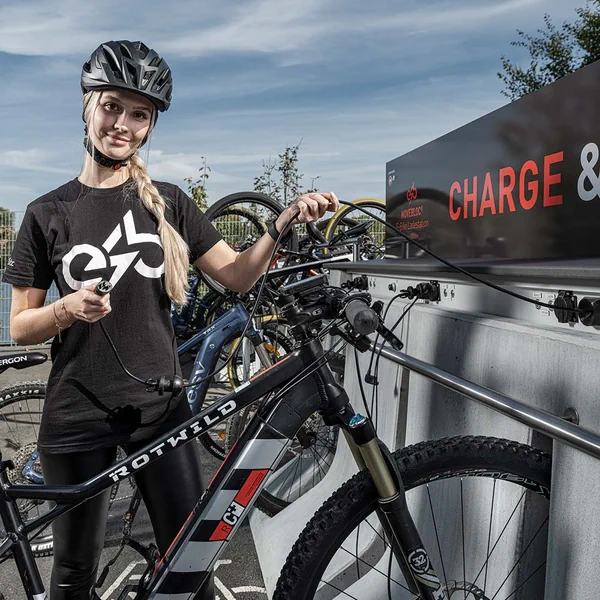 Would you like to use our technology in your product? - We are happy to advise you!