Welcome to the future of e-bike mobility. What do you think of when you hear the word e-bike charging station? CORRECT: of the advantages of uncomplicated charging outdoors, at a rest area, at a bike parking facility and without the need to carry home chargers!
E-Bike Ladestationen von bike-energy können je nach Modell mehrere E-Bikes gleichzeitig laden. Die Lieferung erfolgt montagefertig. Die Modelle TOWER, POINT und LINE können somit schnell und einfach frei stehend oder an einer Wand montiert werden. Unsere Ladestationen sind für das Laden im Freien vorgesehen und machen das Laden im öffentlichen Raum zu einer bequemen Sache.
Alle E-Ladestationen sind mit unterschiedlichen Funktionen und Modulen erweiterbar: Ein- und ausschalten mit Schlüssel oder mit App, Sonderfolierung im Firmen-Design, USB-Anschluss, zusätzliche Steckdose u. v. m. 
Ladestationen mit "offenem Standard"
What please means open standard? Quite simply, it means that you can charge all common e-bike brands with the right charging cable, regardless of which drive your e-bike is equipped with. And where can you get the right charging cable for your e-bike? Simply with our Charging Cable Finder.
TECHNOLOGY Info: Intelligent charging process with battery-saving effect
bike-energy protects the battery of your e-bike to the maximum during charging. Each docked battery is charged exactly with the original charging protocol of the manufacturer.
During the first phase, the charging station charges slowly, and in the last phase, the feed is rapidly reduced. This provides maximum protection for the battery and extends its service life.
INTERESTING: E-bike batteries, which are suitable for fast charging, are charged up to 2 times faster than conventional!
E-charging station TOWER TOWER
bike-energy TOWER for E-Bikes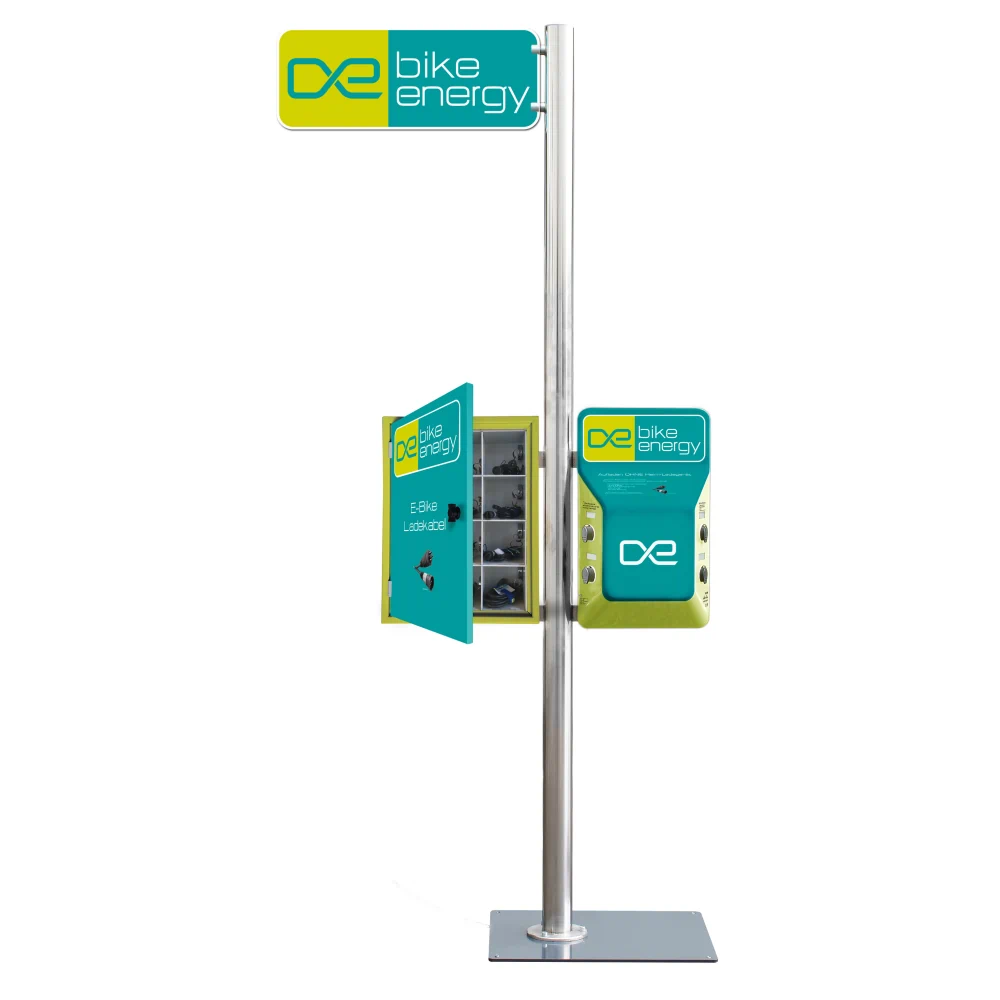 Stainless steel column
Provides a high signal effect
Display
Optional with company logo and colors
E-charging unit 
For e-bikes, e-cars, arbitrarily expandable
Optional charging cable cabinet
With charging cable for all e-bike brands
Base plate
For easy set up, like a gastro umbrella
Foliation
Optional special foiling with own colors and logo
Connection for E-car with 11/22 KW
The electric car can be charged simultaneously with e-bikes.
Two e-bike charging bushes
The charging station can charge 2 e-bikes at the same time.
Safety socket
The POINT is optionally expandable with a Schuko socket.
E-charger POINT
bike-energy POINT - Wallbox for e-bikes 
E-charging station LINE
bike-energy LINE - for e-bikes
E-bike connection
Charge up to 5 e-bikes at the same time
Connection for E-car with 11/22 KW
The electric car can be charged simultaneously with e-bikes.
Foliation
Optional special foiling in company colors and with logo
 Aufsteller verzinkt
Allows freestanding mounting