The bike-energy charging cable

This is how it all started, handy, light and safe to use
E-bike charging has never been so easy
The lowest common denominator, that's what bike-energy calls the charging cable. What do we mean by that? It is the linchpin of our product range, it establishes the connection to your e-bike and is therefore for us the most important component for innovation and top technology. The bike-energy charging cable makes it possible for e-bikers everywhere - at inns, alpine pastures, bars or in tourist regions - to charge e-bikes easily and safely. This is made possible by the innovative and intelligent charging cable in conjunction with bike-energy Charging stations.
Charge your e-bike easily, quickly and safely!
Borrow / buy charging cable
Dock & Charge Charging Cable
Undock charging cable & continue driving
The unique charging cable from bike-energy is handy and small.
This enables longer journeys and reaching greater heights, because at all the bike-energy charging stations can be charged. The charging cables are available for all common e-bike brands. You can often borrow them directly from the charging stations, at sports retailers or in our store acquire
Ihr Shimano-2 Kabel bereitet Probleme?
Compatibility

with all popular e-bike brands
Which charging cable do I need?
With the many e-bike brands, drive types and battery brands available, it's difficult to know which bike-energy Cable you need for your e-bike.
In the Charging cable overview Can filter them by e-bike brand and/or drive.
Here's how it works:
First select your e-bike brand from the drop-down list and click the 'Filter' button. Only one or a few options remain.
Apply the 'Drive/Battery' filter and click on the 'Filter' button. 
If there are now several cables to choose from, match the images of the connectors.
If your brand is not listed, try the battery/drive filter first. If you still can't find what you are looking for, please contact us using the form below.
Showing 1–4 of 38 results
Is the brand of your battery or drive not in the list?
The e-bike market is constantly on the move: There are always new e-bike brands and models, with different drive types and batteries. bike-energy always stays up to date, but it may happen that your brand or drive is not yet listed.
Fill out the form below and report your e-bike brand and drive or battery brand. You must also attach a picture of your bike/drive/battery. This way we will get all the necessary information.
The bike-energy charging cables can also be borrowed
You discover a charging station on the road and don't have your own charging cable with you? No problem: Very often, the operator has an assortment of suitable charging cables ready for you to borrow.
Just follow the instructions on the charging cable finder (directly at the charging station) and get the right charging cable!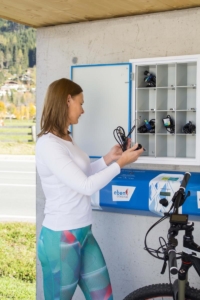 Frequently asked questions