With our extensions and accessories, your charging station can be additionally equipped with practical solutions for your guests and customers .
Bike parking facilities
Give bikes and e-bikes back their place! Whether it's a simple bike stand or a high-quality parking facility, aspects such as safety, space and charging infrastructure for e-bikes are important. A basic rule says: If you want to win cyclists and e-bikers over, you have to take them, their needs and their high-quality means of transport seriously!
Fired back panels
More attention is hardly possible! With a branded back panel, your bike-energy charging station becomes an advertising medium. Customers, guests & Co. immediately recognize to which company the parking facility belongs and where their e-bikes are best kept. Give your parking facility plus charging station your own style with your CI, your color and with your logo. High signal effect!
Surcharge from 408,- € plus VAT.
Charging cable cabinet
I don't have a charging cable with me! Which cable fits my battery? With a charging cable cabinet to your charging station you anticipate your customers or guests many questions. For each battery, the appropriate cable is in the cabinet and can be easily pulled out by a cable pull. All they have to do is plug it in and be patient until their battery is charged. Plug & Play!
Surcharge from 1.123,- € plus VAT.
Signpost & Info board
Show me the way to the next charging station. Cyclists and e-bikers are used to navigating by signs, so simply signpost the way to the next charging station for your customers or guests. By indicating the distance, you make it even easier for your customers or guests to find your charging station and take a well-deserved break at your place. That's how you win satisfied customers and guests!
Surcharge from 53,- € plus VAT.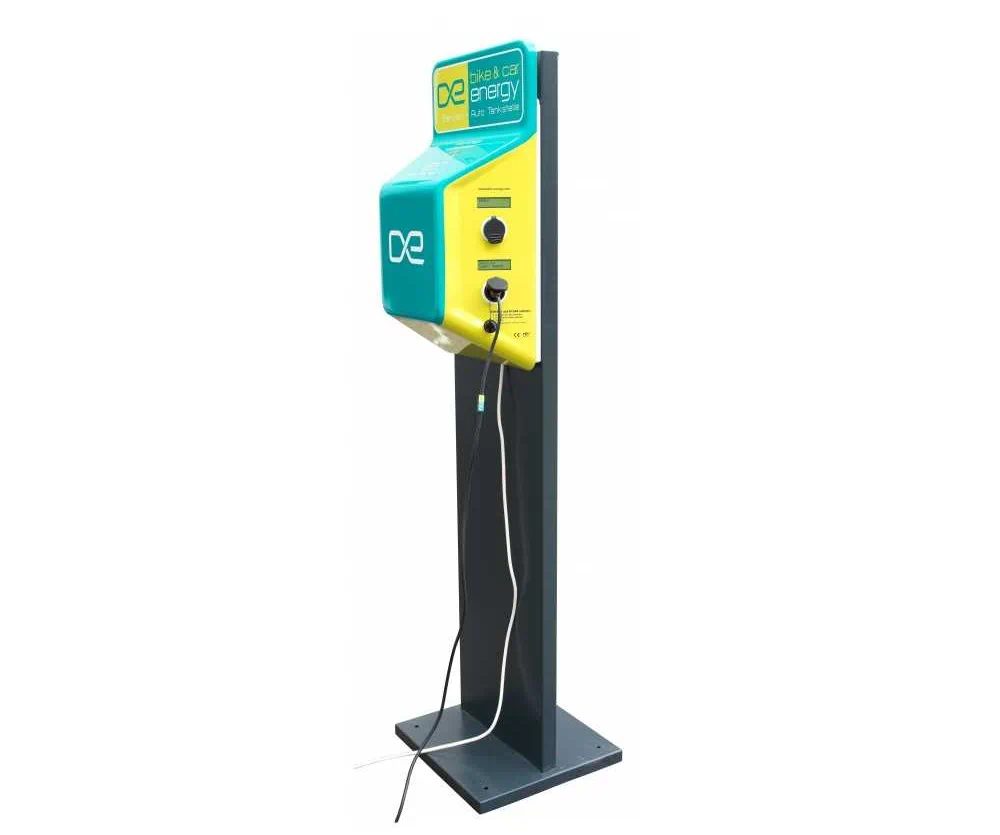 Display 
Many POINT or LINE charging stations are mounted on walls. You can do this, but you don't have to. We offer a free-standing solution with a stand that adds an extra touch of quality and style. Your charging station becomes the center of attention and does its job even better and more professionally!
Surcharge from 328,- € plus VAT.
Special foils not only look professional and stylish, they also contribute significantly to the recognition of your company. For manageable additional costs, you leave an even more professional impression on customers, guests and visitors!
Surcharge from 198,- € plus VAT.
USB port
A quick selfie at the charging station? What if the cell phone battery is empty? With an extra USB port with 2000 mA, your charging station becomes a universal charging point for all kinds of devices. Simply plug in and charge your cell phone, navigation system or similar. Very simple and with a PLUS of service!
Surcharge 75,- € plus VAT.
Schuko socket 
It could hardly be more universal. If you don't have the right charging cable on hand for your guests or customers, they can simply charge at the Schuko socket with the home charger that comes with the device. A small investment for extra added value. So you are prepared for all eventualities!
Surcharge 38,- € plus VAT.